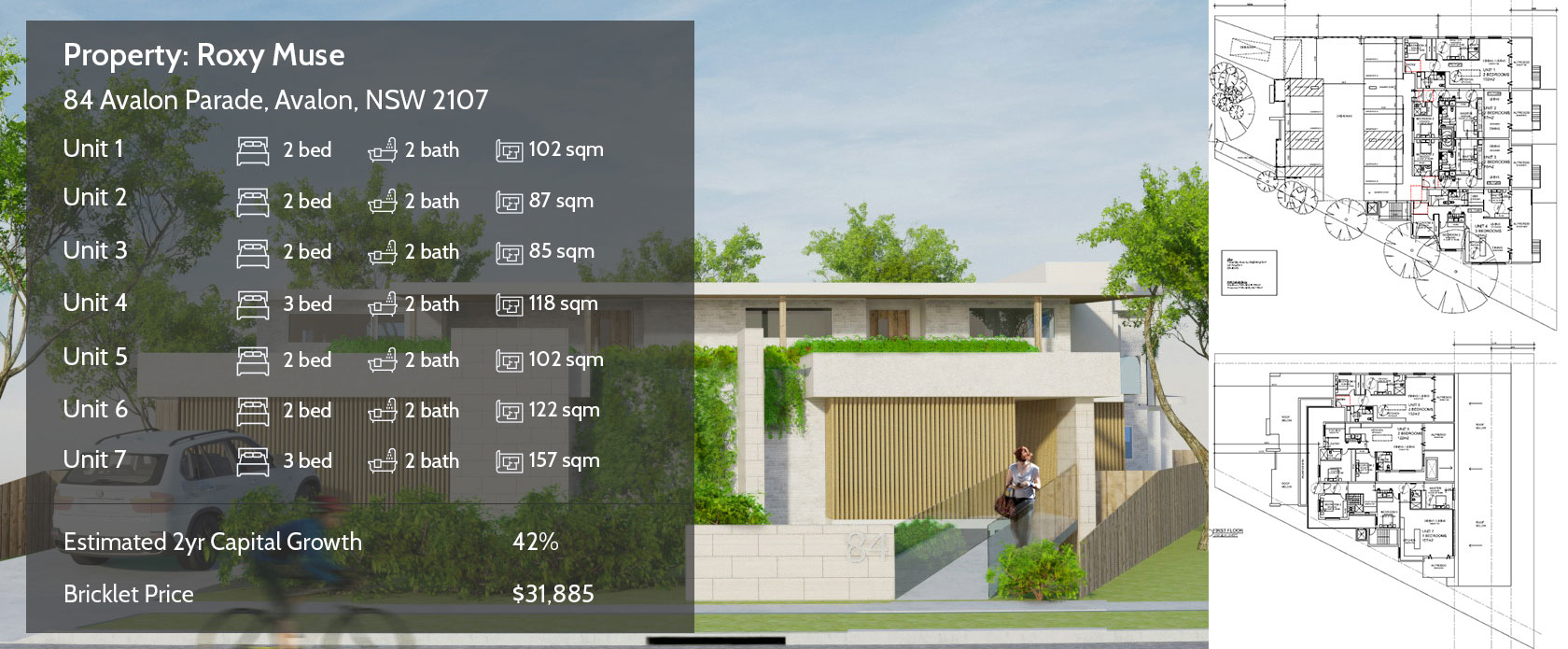 FUTUREALTY: UNPRECEDENTED PROPERTY INVESTMENT
FUTUREALTY only sells ownership in real estate that is yet to be developed. It works exclusively with experienced principal developers, marketing imminent developments to sophisticated investors capitalising on the wealth created through developing properties.
FUTUREALTY utilises the fragmented property ownership model brought to Australia by BRICKLET in 2019 (as reported by The Australian Financial Review here). Fragmented ownership enables multiple investors to individually own fragments of properties. For a fraction of the cost of owning entire properties. BRICKLET's property fragmentation offers particular benefits for SMSFs, as discussed by BDO, one of Australia's leading financial advisory firms.
We offer an exclusive service, working on one property development at a time.
DETAILS ON CURRENT DEVELOPMENT:
Roxy Muse is a specialist build-to-rent development for the lucrative over-55s market. Built in Avalon, on Sydney's Northern Beaches.
Seniors tenants will benefit from lifetime leases, with the property looking at offering modern inclusions that encompass things like car-share garaging, electric vehicle charging points, temperature controlled on-line shopping delivery lockers, managed broadband and IoT services for all tenants and guests; as well as the customary services such as managed building and garden maintenance. These are all managed by a dedicated asset management company with specialist expertise required to manage advanced connected buildings.
Roxy Muse bricklets are fragments of all seven apartments and all common property areas. This presents the greatest diversity and liquidity in owning this development for investors, also providing broad diversity in rental income.
Each bricklet in Roxy Muse is available for $31,885; with the owner of each bricklet registered against the property land title. This earns each bricklet investor the full returns of the development and the yield on rental across all seven apartments; pro rata according to the amount of bricklets owned. It is designed to deliver good on-going yields for each bricklet.
Bricklet owners earn their respective share of the entire developments yield. The individual bricklets can also be sold, independently of FUTUREALTY, whenever investors want to liquidate their investment in Roxy Muse.
100 bricklets have already sold via BRICKLET. Please complete the below for a private and confidential consultation with FUTUREALTY's development consultant, Greg Dixon. Detailed plans of the development will also be fowarded to you.